<![if !supportEmptyParas]> <![endif]>
<![if !vml]>

<![endif]>
<![if !supportEmptyParas]> <![endif]>
<![if !vml]>
<![endif]>
<![if !supportEmptyParas]> <![endif]>
Ladislav Jelinek plays Smetana and Dvorak
<![if !supportEmptyParas]> <![endif]>
<![if !vml]>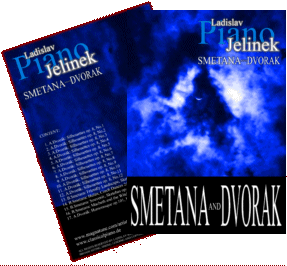 <![endif]>
<![if !supportEmptyParas]> <![endif]>
Reviews
Ladislav Jelinek plays Smetana and Dvorak (1)
<![if !supportEmptyParas]> <![endif]>
<![if !vml]>
<![endif]>
<![if !supportEmptyParas]> <![endif]>
<![if !vml]>
<![endif]>
<![if !supportEmptyParas]> <![endif]>
<![if !supportEmptyParas]> <![endif]>
LADISLAV JELINEK PLAYS SMETANA AND DVORÁK
<![if !supportEmptyParas]> <![endif]>
Ladislav Jelinek plays Smetana and Dvorák - a completely different atmosphere unfolds with the Silhouettes. Ladislav interprets these intimate, graceful little works with an exceptional sense of detailed fine work, weighing the dynamics as if on an absolutely exact balance - each piece in his performance is a little world in itself. His interpretation is strong in expression, winged by the perfect technique.
<![if !supportEmptyParas]> <![endif]>
As an interpreter of deep inner enjoyment Ladislav Jelinek appears likewise in the popular Humoresque No. 7 from the homonymous cycle of piano pieces op. 101 by Dvorák.
<![if !supportEmptyParas]> <![endif]>
USA
<![if !supportEmptyParas]> <![endif]>
<![if !vml]>
<![endif]>
<![if !supportEmptyParas]> <![endif]>
<![if !supportEmptyParas]> <![endif]>
<![if !vml]>
<![endif]>
<![if !supportEmptyParas]> <![endif]>
<![if !supportEmptyParas]> <![endif]>
<![if !supportEmptyParas]> <![endif]>